Make New Friends, Connect with Nature, Learn through Play!
We feel that children learn best through play and discovery. We feel a program designed for children should foster the child's innate desire to explore materials, ask questions, talk with other children and adults and to become independent. This should occur in a safe and nurturing environment. We recognize individual differences and strive to help the child feel success and self-worth.
We provide activities that are designed to improve physical coordination, language skills, social skills, and foster creativity. We screen all books and strive to present the best in children's literature.
Curriculum and Teaching Approach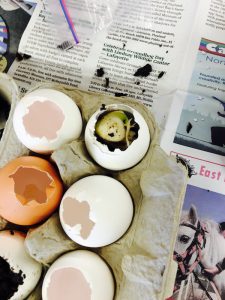 We are a play based curriculum and work off of themes. Curriculum is usually chosen by the staff according to the needs of the children. Centers related to the curriculum are set up for the child to explore. Teacher led activities are also available. For example, Rainforest Theme Activities include:
Children cut lines on a green leaf that we make into a palm tree (fine motor skills, experience using scissors)
Sponge paint leaves for trees in the classroom (art, fine motor skills, collaboration)
Color an S is for Sloth coloring page and talk about what other words start with S at circle time (pre-literacy activity)
Read Eric Carle's book Slowly, Slowly, Slowly said the Sloth (pre-literacy, science)
We ask the children to share what they do slowly (going to bed and waking up were most common!) (encouraging language, making connections)
Poison dart frog race – we line up some toy frogs with a piece of construction paper broken into spaces in front of each one. Each child chooses a frog and rolls a die to see how many spaces he/she can move the frog. Then we talk about 1st place, 2nd place, 3rd place frogs at the end of the race. (counting activity, learning how to take turns, pre-math vocabulary)
Paint with watercolors on a coffee filter to make flowers for bromeliads (art, creativity, science)
Put out a table with poison dart frog toys, rocks, some water in a container, some leaves for children to play with (exploration through play, creativity and imagination)
Sing songs about a boa constrictor, green anaconda, "In the Jungle" … and more (music)
We recognize the years between 2 and 6 to be among the most crucial in the formation of a child's cognitive, social and physical development.
It is our job to foster the child's natural inclination to explore their world, ask questions, talk with other children and adults, and to become independent. We feel that children learn best through play and discovery.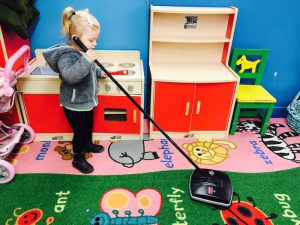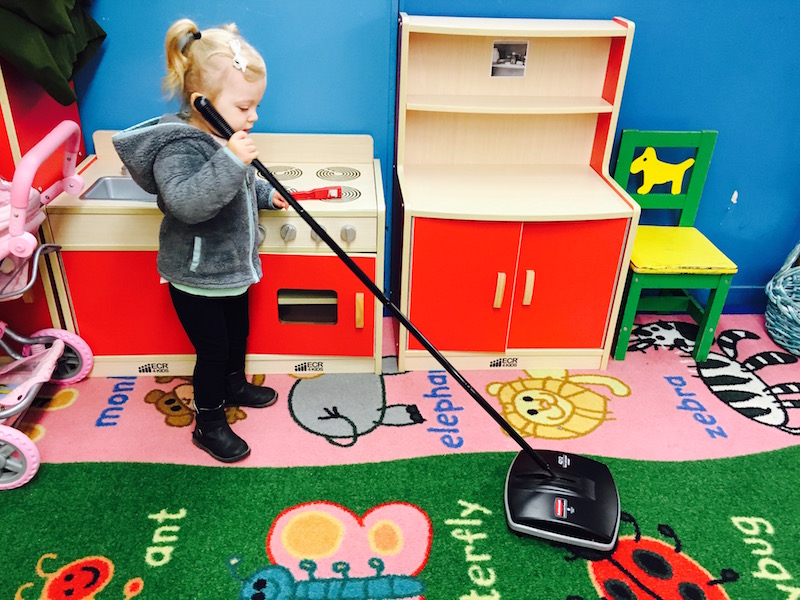 We offer three special enrichment classes:
Dance is taught weekly by a professional dance instructor once a week. Laura of Happy Feet teaches routines, provides props such as scarves, bean bags and hula hoops, and teaches some basic tumbling. Our class is split into 2 groups for each 30min dance class.
Spanish is taught weekly by our Hispanic teacher where the children learn vocabulary for foods, body parts, and more through song and activities.
Music is taught weekly by a professional musician who plays guitar, sings, and brings drums, rattles, and wonderful music to our children.
Individualized Teaching
We are a mixed age classroom so the children have a large range of cognitive and social skills. We find that different ages will approach our projects in different ways and that we can adjust our activities to make them more challenging.  For example, in the frog game I described above, I used one die for younger children and 2 dice for older children.
Younger children tend to spend less time on our open ended art projects, while older children will put more thought, planning and time into their project.
We also work to ensure children are prepared for kindergarten. Each teacher works with a small group of children who will be graduating from our program. We begin with a workbook to see if/where they will need additional attention and work from there.
Home and School Connection
Parent conferences are held in Feb, although a parent may request a conference at any time. We are happy to connect with parents daily at pick-up time about their child's day.
There is a monthly calendar and newsletter as well as some e-mail reminders regarding upcoming events.
Parents get to know each other at our back to school potluck, parent workday, and Porcupine Soccer(a parent lead soccer league for Skyline children).
We also provide a parent directory to make it easy to contact other families for play-dates and parties.
Handling Separation
We encourage the parents and child to visit our school before they enter. Parents are welcome to accompany their child to school and stay for a short while the first few days of school. Parents are welcome to call and inquire about their child at anytime. Child is encouraged to bring a favorite stuffed toy from home or a picture of their family if they wish. Another opportunity to visit the school early on is to attend the Spring Fling in May of every year.