Naomi Corson, Director
Naomi has been working in the Early Childhood field for the last twenty three years; as Child Care Counselor, School-Age Teacher, and as a Preschool Director/Teacher. She has a Bachelors of Science in Health & Human Services w/a concentration in Early Childhood Development as well as her Child Development Program Supervisor Permit from the CA Commission of Teaching Credentials. She loves the Bay Area for its diversity, active food scene and cultural events, and spend as much time as she can enjoying the outdoors with her dog.
Yolanda Robles, Teacher
Yolanda obtained her teaching credentials as an Elementary School Teacher and a Montessori Teacher in Guadalajara, Mexico, where she worked as an elementary school teacher for five years.  Upon immigrating to the U.S., she obtained an A.A. in Early Childhood education from San Leandro Montessori School and worked there for four years.  She also attended Chabot College for studies in Early Childhood Education. Yolanda brings 13 years' experience as a kindergarten teacher from her previous position at Mountain Boulevard Preschool Learning Center, and has a total of 27 years of experience working with children.
Annie has been in the Early Education field since 2009, she has worked with infants, toddlers, and preschool aged children. She has a degree in Human Development with a minor in Psychology from University of California-Davis.
Monica is experienced in working with infants, toddlers, and preschool aged children and began her career in education in 2006. She has completed 36 Early Childhood Education units at Contra Costa College and is continuing her education to complete her Bachelor's degree. Monica is a native Spanish speaker and has a strong interest in yoga, she is a member of the Yoga Alliance.
Tiffany Louie, Teacher
Tiffany has been in the Child Care/Teaching field since 2007, and has worked with infants, toddlers, and preschool aged children.  She has completed 12 Early Childhood Educational units at Merritt College.  She also can speak Cantonese and has many cats.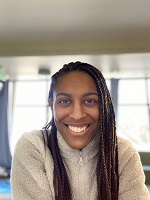 Kendall Williams, Teacher
Kendall has been working with toddler to high school school age children for 5 years. She is completing her degree in Early Childhood Education from Diablo Valley College. She is very passionate about animals and nature, and loves trying out her student's new ideas.