Our experienced teachers have designed an imaginative and developmentally appropriate program that includes:
Art
Music
Dance
Language Arts (story-telling, alphabet, writing)
Pre-Math (numbers, counting)
Social Skills
Cooking
Dramatic Play
Science
Field Trips
For a sample of our circle time songs, check out our music teacher's sample CD
Facilities
The Preschool enjoys exceptional facilities:
A spacious, bright, fully-appointed classrooms, with large windows, bright natural light, and a beautiful natural view. The classroom is divided into carefully designed activity areas: blocks, dramatic play, story telling and puzzles, art and science. Small group instruction takes place in activity areas, and children are encouraged to circulate freely among the areas during supervised free time.
A large sandbox and play-yard, fully equipped with climbing structure, slide, playhouse, water play fountain, monkey bar, tricycles and outdoor toys.
A vegetable and flower garden, planted and tended by the children
Kitchen facilities
Access to fellowship hall for indoor activities such as music, dance and Spanish class
Food
We provide nutritious morning and afternoon snacks. Parents provide lunch. We teach the children about compostable, recyclable and landfill waste.
Daily Schedule 8 am – 5:30 pm. 
8:00–9:30 AM   Free Play and Table Activities
9:30 AM   All Students Must Arrive by 9:30
9:45  AM   Clean Up Classroom/Bathroom Time
10:00 AM   Snack Time
10:15 AM   Circle Time/Stories/Themes/Songs
10:30 AM   California Preschool Curriculum Learning Foundation Activities
11:00 AM   Outside Play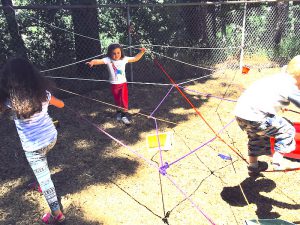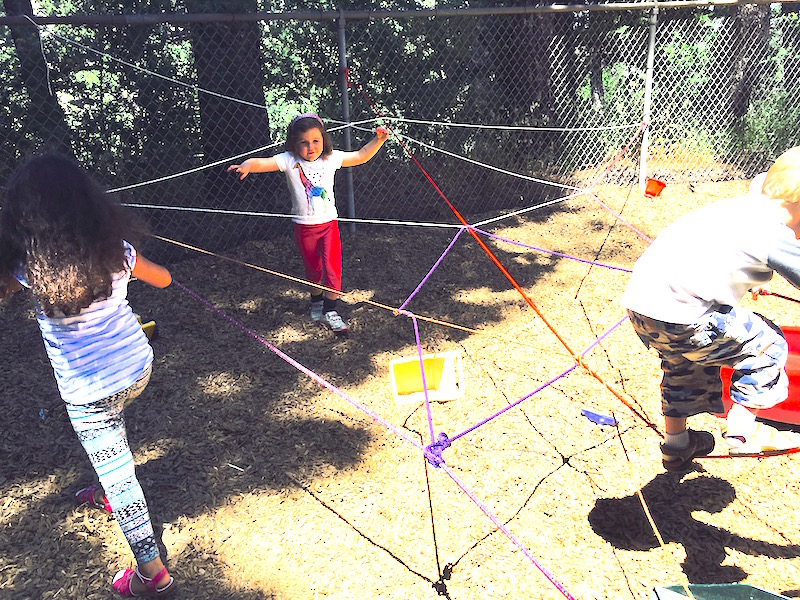 Noon PM   Lunch Time
12:30 PM   Outside Play
1:00 PM   Pick Up Time for Half-day Students
1:00  PM   Story Time
1:15 PM   Rest Time
3:00 PM   Wake Up/Snack Time/Inside Play
4:30 PM   Pick Up Time for Standard Day
4:30 PM   After Care
5:00 PM   After Care Snack
5:00-5:30 PM   Free Choice Art/Books/Puzzles
5:30 PM   Center is Closed
Spanish, Music, and Dance classes are offered once a week in the morning. (schedule may vary during pandemic)
Toilet Trained
Children entering the program must be completely toilet trained.  They wear underwear and are able to communicate their need to use the toilet.  Our bathrooms don't facilitate diaper changing tables.
Discipline
For an infraction of a classroom or playground rule (i.e. running in the classroom, throwing toys, throwing sand, pushing or hitting etc.), a child will be given a series of verbal reminders along with the reasons we have such rules. Whenever possible we will re-direct a child's behavior toward a more productive and positive activity. If a child refuses to cooperate or is causing harm to his/her self or others we may have a child participate in another activity. If needed, the child could have alone time to re-group.
When a disagreement arises between children, we try to include the children involved in finding solutions. In the beginning we will model appropriate language and possible solutions in order to teach these skills.
Parent Participation
Parent participation is strongly encouraged but for Parent Work Days, The Spring Fling (our annual fundraiser) and during field trips, it is non-negotiable.
Visitors
Prospective parents are welcome to visit. Please call ahead to arrange a tour, (510) 530-0884, or email the director.